← students
| | |
| --- | --- |
| First name: | Cristina Liliana |
| Last name: | Moraru |
| Country: | Romania |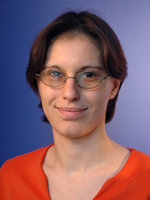 Thesis Subject:Development of protocols for in situ detection of genes in microorganisms
Scientific Interests and Goals:There is an increasing awareness regarding the roles that microorganisms are playing in biogeochemical cycles, both in the terrestrial and marine environments. Understanding the driving mechanisms behind these processes requires a comprehensive knowledge of the diversity, composition, function and dynamics of the associated microbial communities.
The composition and structure of microbial communities was greatly revealed in the last years through the development of rRNA based FISH techniques. The next step would be to gain insights into the functional aspects. Since the most environmental microorganisms do resist cultivation, classical physiological methods based on pure cultures can not be used.
In my PhD work I will focus on the development of a FISH technique which will allow the association of the gene presence with the taxonomic identity of microorganisms in environmental samples. Since the method will be based on FISH, it will permit not only qualitative but also quantitative analyses.