← students
| | |
| --- | --- |
| First name: | Adrien |
| Last name: | Assie |
| Country: | Germany |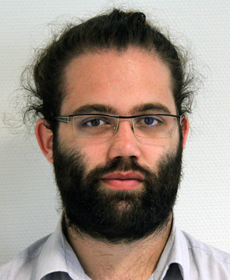 Thesis Subject:PhD Thesis:
My work is mainly focused on the relationships between deep-sea mussels of the genus Bathymodiolus and their endosymbiotic bacteria. An initial focus is on searching for relationships between the mussels and other bacteria than the classical gammaproteobacterial Bathymodiolus symbionts such as epsilonproteobacteria and planctomycetes which repeatedly have been found associated with this host genus.

Master Thesis:
In the professor F.Vavre's team at the Laboratory of Biometry and Evolutionary Biology, University of Sciences, Lyon, FRANCE.
- Research and validation mechanisms involved in host-endosymbiont interactions.
- Establishing lines of Drosophila D.melanosgaster expressing RNAi in order to set up a screen of genes of interest.
| | |
| --- | --- |
| Education: | |
| | 2009-2011 Master in Fundamental Microbiology at the Paris 7 university |
| | 2006-2009 Licence in Mycrobiology at the Sciences Faculty of Montpellier |
| | 2004 High School certificat at the Lycée Gaston Monnerville of Kourou |
Scientific Interests and Goals:I studied biology in the Faculty of Sciences at the University of Montpellier in France where I was educated in a variety of general biological topics and graduated as a Bachelor of Science. Subsequent participation in experimental field studies on tropical rain forest ecology during two internships at the French Guyana laboratory of the Institut National de la Recherche Agronomique (INRA) provided me valuable experience in field work. After that I decided to focus on microbiology and started a Master course at the Paris 7 University and the Pasteur Institute in Paris. During that time I got fascinated by eukaryotic and prokaryotic interactions and he moved to the Laboratory of Biometry and Evolutive Biology at the Univeristy of Lyon where I joined the group of Prof. Fabrice Vavre who investigates the molecular mechanisms involved in the interaction between Drosophila fruit flies and their endosymbiotic bacteria of the genus Wolbachia. I graduated as a Master of Science and the main objectives of my study were to set up a host gene inactivation system using interference RNA and to measure the inactivation impact on the endosymbiotic population. During this project I gained insight on several molecular biology techniques such as DNA/RNA extraction, Real time qPCR, automate utilization and insects rearing.